We are anchored in the middle of New York Harbor with the best views of the skyline and the sailboat races. How cool is that!!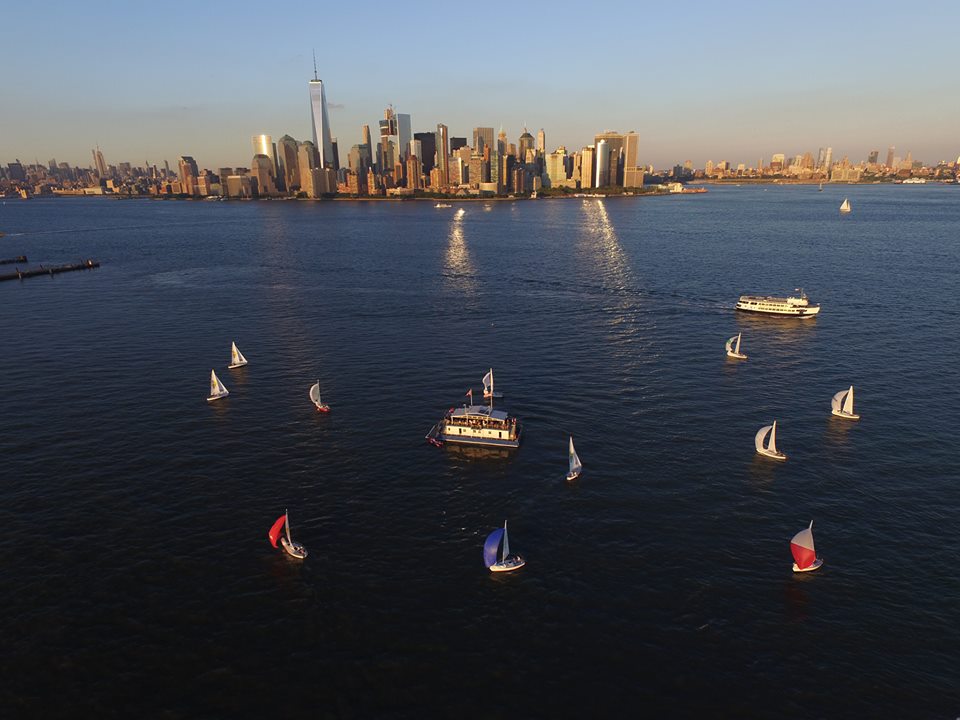 This is why we always have such an incredible crowd. The people who visit us love the harbor, sailboats and being on the water. We are the Real McCoy of waterfront venues. No one else even comes close.
People also love us because we are small and exclusive. Our maximum capacity is 149 guests. We are not a normal bar because we are run by the Manhattan Yacht Club. You will get lots of friendly attention from our captain & staff. Did you hear we also serve our beers at 34 degrees and our Mt Gay Rum & tonics are world famous?
GET HERE
You get to the Honorable William Wall by riding on our beautiful "Admiral's Launch" (picture below) which departs from the Manhattan Yacht Club clubhouse in Jersey City.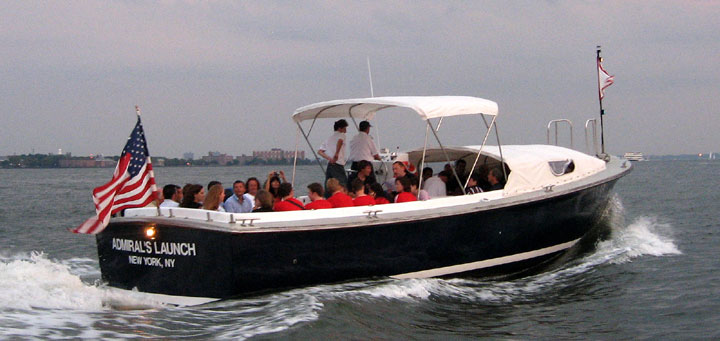 If you are in Jersey City, just buy a ticket, walk to the Manhattan Yacht Club and catch the launch.
If you are coming from Manhattan, buy a ticket and go to the Brookfield Place Ferry terminal where you will catch the "Little Lady" ferry (picture below).  Get off at the first stop "Warren Street" where our Willy Wall "Greeter" will meet you and walk you over to the Manhattan Yacht Club.

Here are the directions from Manhattan in 3 simple steps:
Arrive at the Brookfield Place Ferry Terminal (Vesey Street and the Hudson River) at least 5 minutes prior to your ticket time.
Check in with our HWW representative standing near slip #2 (the ferry landing slip can occasionally change). They will be wearing white captain's shirt with stripes on their shoulder. Show them your mobile ticket and they will give you a ferry pass.
Ride the ferry and get off at the first stop "Warren St" where you will meet our "Greeter" and walk 2 blocks to the Yacht Club.
Manhattan tickets include the Little Lady ferry ticket. But this ferry stops running early so guest returning to Manhattan at the end of the evening choose their own option from Uber/Lyft, another ferry or PATH. (VALUE ALERT – if you are a group of 4 people, Uber/Lyft back to Manhattan is about the same price as a ferry!)
When Admiral's Launch drops you back off at the Manhattan Yacht Club after your incredible harbor evening, our greeter will be happy to advise you on transportation options as well as other nearby bars and restaurants if you wish to continue your celebration.