Your ticket covers a round-trip on our Admirals Launch water taxi from the Warren St Pier stop in Jersey City to the Honorable William Wall and back.
When coming from Manhattan, your ticket includes a free transfer on the Liberty Landing ferry from the World Financial Center Ferry Terminal to the Warren Street Pier stop where you meet our Admirals Launch.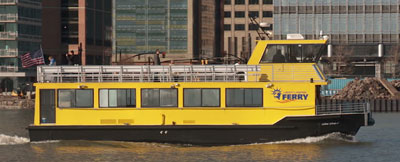 Arrive to the World Financial Center Ferry Terminal (Vesey Street and the Hudson River) at least 5 minutes prior to your ticket time.
Find our HWW representative standing near slip #2. They will be wearing white captain's shirt with stripes on the shoulder. Show them your mobile ticket and they will give you a ferry pass.
Ride the ferry, disembark at Warren Street (first stop), and wait at the top of the ramp until the blue Admirals Launch arrives shortly thereafter.