The Honorable William Wall is Manhattan Yacht Club's one-of-a-kind -floating clubhouse.  The Clubhouse serves as a spectator platform for members and guests to watch the races and an educational center for teaching sailing.  The Club also shares this great harbor treasure with the public as a way to get more people involved in the recreational renassiance of the harbor.
The Clubhouse is anchored in the New York Harbor just north of Ellis Island and features 360° views, including the Statue of Liberty, Ellis Island, Brooklyn Bridge and the Manhattan Skyline. The clubhouse is available for private event rental to corporations and individuals alike.
Summer Office Parties
Birthdays
Wedding Brunches
Press Events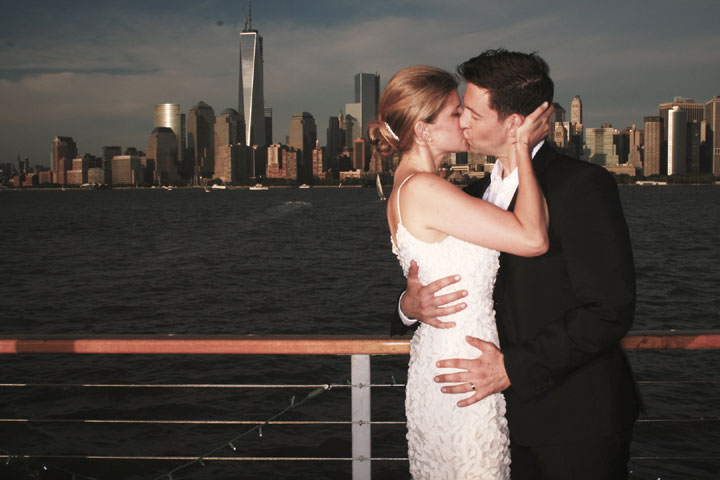 The "Willie Wall," as it is affectionately known, is an unforgettable venue for an office party, birthday or any special occasion.  The upper deck is a summer favorite with its open air bar and sweeping views.
The Honorable William Wall is a US Coast Guard certified vessel which can accommodate up to 140 guests.
The two-story clubhouse measures 90 ft long x 30 ft wide. Larger groups can privatize the clubhouse for their own events.  The maximum number of guests is 140. Smaller groups can reserve a portion of the club for their event. Half of the upper deck can easily accommodate 75 guests.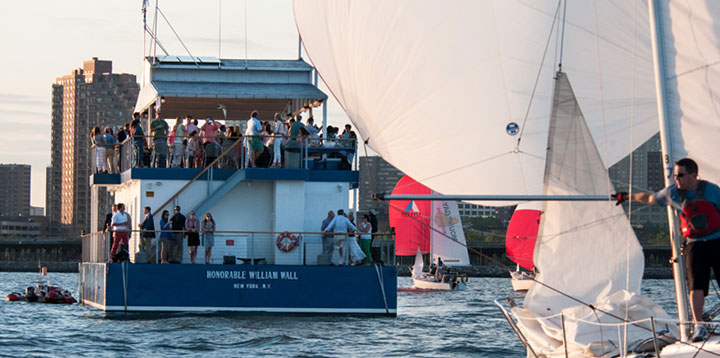 The Upper Deck is a favorite summertime location. It is open air with a covered deck, sound system and cafe-style seating. Day or night, the Manhattan skyline will provide the perfect setting for your event.
The Main Deck features lounge seating, as well as a wrap-around deck and heated interior. For your convenience, the lower level houses two modern restrooms and a coat-check area.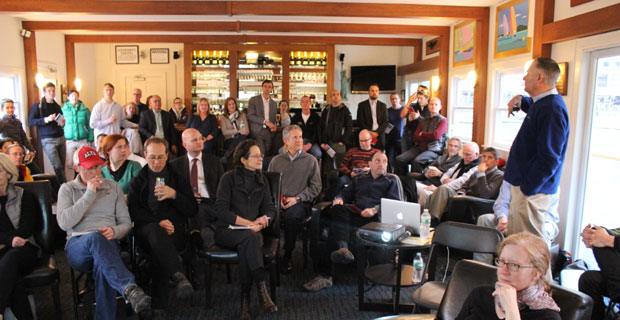 From May through October, the clubhouse is anchored in the New York Harbor, just north of Ellis Island. is location offers superb views of sailboat races and Downtown Manhattan.  The Club invites the public to come out and see and experience the harbor.  Once you see all the exciting things going on, we hope you will get more involved.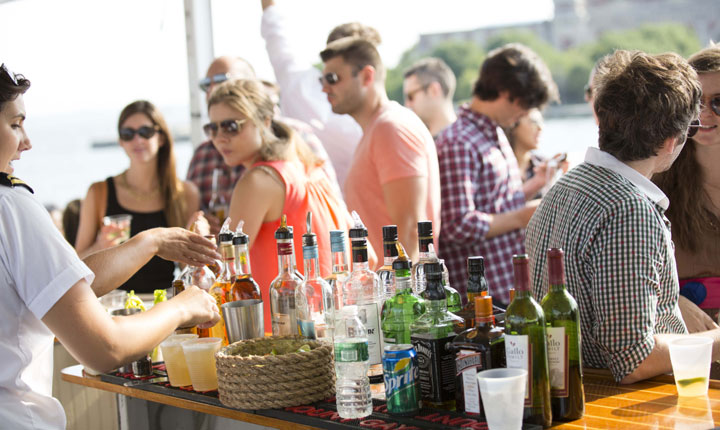 Pricing
Costs for a corporate or private event up to 3 hours are:
Launch fee (round trip) – $20 pp
Premium bar service (up to 3 hrs top shelf) – $50 pp
Privatization fee – 1/2 the Upper Deck for up to 75 people at $750 or entire clubhouse for exclusive use at $1,500
Private events may bring in an outside catering or use one referred by our club.  All catering is quoted separately.
Booking
Request Your Private Event Here
Don't wait to reserve a date for your corporate or private event. is breathtaking venue books up fast, particularly in the popular summer months.  To  discuss planning options, contact us at office@myc.org or 212-786-3323.l