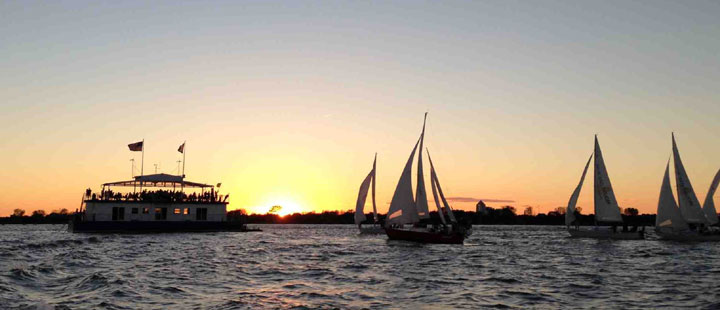 The Honorable William Wall is the floating clubhouse of Manhattan Yacht Club. Manhattan Yacht Club was founded in 1987 and re-introduced recreational sailing to New York Harbor.
Call us anytime at 646-787-6726. But when we are in operation (evenings and weekends) we sometimes can't answer the phone immediately so please leave a message too.
During its incredible history, the Club has been very innovative and created many "firsts."  The Honorable William Wall is one of these. Most sailboat races used to take place out in the water where people cannot see. MYC envisioned a spectator platform where people could come out and watch the races. This has been a huge success and has grown the sport of sailing in New York Harbor. After watching the races, many people decide to take sailing lessons. Now the Willy Wall concept is being copied by other clubs and organizations around the country.
The Honorable William Wall is a 90 ft steel barge with an open-air upper deck. The Clubhouse is anchored in New York Harbor just north of Ellis Island. The Clubhouse offers incredible views for watching the sailboat races.
Thanks to one of our guests Cody Pope for this great video:
Good Vibrations on the Honorable William Wall from Cody Pope on Vimeo.
Manhattan Yacht Club has opened its Clubhouse to the public since 2012.  The Clubhouse is one of the most affordable ways for people to visit and enjoy the harbor.